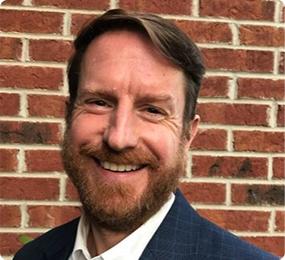 Brian is a Rockford native who spent more than 25 years in healthcare marketing before moving into a new leadership role at an area non-profit. He grew up in a Christian home and accepted Jesus as his Savior at a young age. Brian has served in past leadership roles at other churches and was part of Crosspoint's launch team. He is excited for all that God has in store for this church and its impact on our community. Brian has been married to Sue for 29 years. They have two adult children.
Margie Auman began attending Mosaic in September 2010. She is a clinical pharmacist and wellness consultant. She leads the Wednesday night Adult Bible Study at Crosspoint. You will also see Margie on most Sundays behind the microphone giving announcements. She is passionate about teaching the Word of God and applying it to the whole person to glorify God in every endeavor. She has been married to Tim since December 1992, and they have two adult children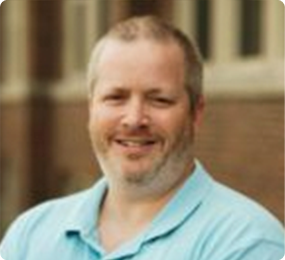 Tim Auman serves faithfully on the finance team and was involved on the leadership team at Mosaic, and on the Merger Team to transition to becoming Crosspoint Church. He works at Acument Global Technologies as an Application Manager. He was involved in several church plants before attending Mosaic. He started attending Mosaic in September 2010. Tim is passionate about seeing the ministry of the Church grow and meet its goals and objectives to change lives.  He married Margie in December 1992, and they have two adult children.
A veteran teacher of English and reading in the public schools for 34 years and a national consultant in reading styles for 17 additional years, Kay cherishes her current opportunity to team-teach English to members of our Myanmar church family. She accepted Christ in her Sunday School class at age 8, was baptized as a teen, and re-baptized by immersion at Temple Baptist Church (TBC) as an adult. Her life verse is Isaiah 41:10, "So do not fear, for I am with you; do not be dismayed, for I am your God. I will strengthen you and help you; I will uphold you with my righteous right hand." (NIV) And He has! 
Her joy in ministering for Christ through the years has been in working with youth ministries, elementary students-at-risk, women's ministry and Bible studies, and short-term missions, both locally and in other states, and on the Arabian Peninsula. She is praying that teaching her Burmese students will resume after COVID and that God would continue to use her as a member of the Management Team of our newly-merged Crosspoint Church!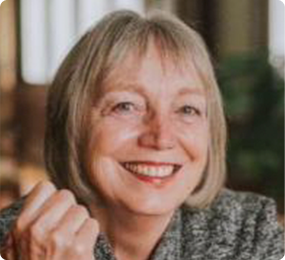 In 1980, as LuAnn was going about her young life, an act of caring for others led instead to understanding God's care and love for her and her family through His Son, Jesus. Like many in the Bible who were given a new name and new hope, she was given the new name: Christian. The church that meets at 3215 E. State St. likewise has been given a new name: Crosspoint Church. We have a new identity and new relationships with each other and with God. LuAnn cares deeply about this church body and wants everyone to know God better and love him more through this new identity. May how we mirror Jesus to each other, to our Jerusalem, Judea and Samaria and the ends of the earth be worthy reflections of Him. By God's grace, may our lives honor this name and always point to the finished work of the cross.
Born and raised in the small, southwest Iowa town of Harlan, Byron was privileged to grow up in a family where church was part of his life. He asked the Lord into his life at 12 years old. While he continued to hold onto church life, for a number of years, his relationship with the Lord was not what it should have been. It was not until the early 1970's when one of his professors invited him to some Navigator gatherings. This led to Bible studies with other students, and later young couples, that solidified his life in Christ as his loving, merciful and gracious Savior, rather than a harsh judge who was impossible to please. 
College and work took him and his family from Cedar Falls, Iowa, Lima, Ohio and Rockford, Illinois. In each of these cities, his family has been part of Bible-believing churches and various ministries, including Sunday School, Church Moderator, Building and Grounds and a few missions trips.
Byron and his wife, Nan, became members of TBC in 1993 and are the proud parents of 3 sons, 10 grandchildren and 2 great-grandchildren. They are excited to see what God has in mind for Crosspoint as we continue to grow together and in what capacity He wants Byron to join Him. 
Shortly after Fred surrendered his heart to Jesus in 1978, he returned to Rockford and began attending Temple Baptist Church in 1980. He discovered his spiritual gifts of service and hospitality and began serving on the building and grounds team. In the 1990's, God gave him a passion for men's ministry in the Promise Keepers movement and he organized bus trips to conferences. Fred loves serving in the cafe, small groups, bus trips, singles' group, men's ministry, young adults, and building projects. Drama and productions have also been a part of his 40 years at TBC, now Crosspoint Church. For the past two years, he has volunteered as Property Manager at Crosspoint.
Sheila has an Associates of Arts degree from Rock Valley College, B.S. and M.A. degrees in speech pathology from NIU, and an M.A. degree as a Reading Specialist from Concordia University. She has worked with all ages in the Public Schools as a speech pathologist since 1988. She is passionate about seeing the church be effective in people's lives and in the community. She has been married to Tom since 1999, and they have three grown children.
Ashley has lived in Rockford for 3 years. She works as a materials engineer at Woodward. Ashley is passionate about truth and restoration within the body of Christ.
AJ grew up in Springfield, IL and found her way to Crosspoint with stops in Chicago, Istanbul, Paris, and Champaign. She found Christ as a freshman in college and now loves to learn about God's character, especially His boundless grace and overwhelming forgiveness. She is looking forward to serving alongside the Crosspoint body and figuring out how many rooms are in the church building.
AJ works for a local non-profit by day but by evening transforms into a weeknight warrior with her superhero team, Ben and Chloe. AJ is passionate about 7th grade math homework, Excel spreadsheets, finding things she can sew, planning grandiose house projects to finish someday, and chasing her dog's toys from underneath furniture. Ben, her husband, is an IT extraordinaire and fabulous conversationalist. Chloe, her step-daughter, is a sporty science whiz who loves her cat. You can find the Teeters (a.k.a. "ABC's") grilling out on the patio, playing games, riding roller coasters, or camping in the summer.
Jim Black came to know Jesus at age 17 as a high school senior. The summer before Jim's senior year, his eldest sister died from a liver disease at age 24. This trauma catapulted Jim into a desperate search for meaning in life. He started going to Tuesday evening Bible study that summer then started going to church on Sunday mornings that fall. After high school, Jim went to Bible college in Alberta, Canada from 1978 to 1982. Jim married Lisa Rockwell in December 1983. Lisa went to Biola University to study nursing. She has worked as a nurse for over 30 years.
Jim and Lisa moved from their home in Washington State to Sioux Falls, SD the summer of 1986 so that Jim could go to Sioux Falls Seminary where he graduated with a Masters of Divinity in 1989. 
After seminary, Jim and Lisa went to Nigeria as missionaries with North American Baptist conference, where they served for a total of eight years. Jim has also served as a pastor and a mission administrator.
Jim and Lisa have four kids who are all married and they now have 11 grandchildren. Jim and Lisa moved to Rockford in January 2020.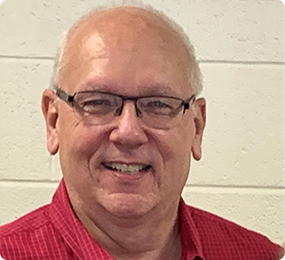 Bob is a lifelong resident of the Rockford area, and retired from a career in health care administration and human resources. He and his wife, Nancy, have a blended family with grown children and grandkids. He became a believer while in college (1972) and has been a member of Temple Baptist Church ever since. He has served in a number of ministry capacities including Sunday school and ESL teacher, AWANA leader, elder, and most recently, a member on the church's transition to Crosspoint. Bob is very excited to be part of this church and to make a greater impact in people's lives for the cause of Christ. 
Daniel Galvez started attending Mosaic in 2009 and was part of the Merger Team to transition to Crosspoint. He's been a pilot with American Airlines since 1992 and has an extensive military career. He's served on leadership for a number of years, helps with the Crosspoint Youth Group and spearheads a community Halloween outreach every year. He's gifted in leadership, encouraging others, and loves to cook. Daniel believes Crosspoint exemplifies Christ's love to others by accepting them and not judging them. He believes that having an active relationship with our Living God and Savior Jesus Christ is the only road to eternal life and the cornerstone for strong and nurturing relationships at home, at work, in the community, and here at Crosspoint. He's been married to Sheryl since 1984, and they have three adult children and one grandchild.
Jeff's father grew up in Rockford but met his mother in San Diego, CA. His mother's family provided a solid Christian heritage. His Sunday school teacher led him to Christ at seven years old, when he trusted Christ as Savior from sin. His walk with the Lord was encouraged by youth leaders in his church when they moved to Washington. After a year of college, during a summer ministry, God directed Jeff to prepare for Christian service at Moody Bible Institute, where he met Marilee. They married after she graduated, and continued preparations for ministry with Mission Aviation Fellowship. 
They served with MAF for 15 years in several countries, with support from Temple Baptist Church (TBC), and returned to settle in Rockford for 10 years. They were part of TBC during those years helping in the Hispanic ministry. They raised 3 children and when they left home, Jeff and Marilee returned to Guatemala in a ministry of leadership development with One Challenge for another 15 years. In 2016, they returned to live in the USA to be supportive of aging parents. They continue serving with OC half-time in order to also serve in their church and community and to be with their children and grandchildren. They are excited to be part of the church body Crosspoint is becoming. They believe God will lead us all in our vital contribution and want to support this.
Dave has served in pastoral ministry since 1994 with churches in the upper midwest and was the founder and lead pastor of Mosaic, that has now merged to become Crosspoint.
Dave has a love of strategy, big dreams, people-development, and difference-making. He enjoys sub-par puns, piles of books, and too-loud music. He balances seriousness, wisdom, and depth with contagious humor and energy. His devotion to God and love for all people flows from a heart of sincereness and humility.
He is a graduate of the University of Northwestern-St. Paul, with degrees in Pastoral and Biblical Studies. Holding a M.S. degree in Organizational Leadership from Southern Christian University, he serves on multiple local and international boards. He has been married to his wife Gretchen since 1995, and they have two adult daughters.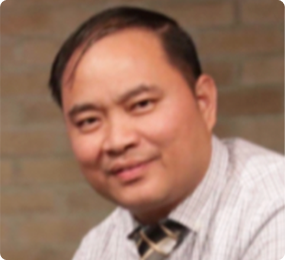 Pastor Kee grew up in Myanmar. He was baptized in 1998. He attended the Ministry of Diploma at Full Gospel Assembly in Yangon, Myanmar. He became an administrator for evangelism at Acts Apostolic Church and in 1999 he attended the Dolous Theological Seminary and earned a Bachelor's degree of Theology. He became founder and assistant pastor at Agape Church in Yangon and in 2006, he and his family became refugees and lived in Kuala Lumpur, Malaysia. During his time in Malaysia, he was the lead pastor at Dai Christian Fellowship.
In 2011, Kee and his family moved to Rockford, Illinois, and in 2012 he founded and was lead pastor of Myanmar Christian Fellowship. He earned his certificate of license in 2013 from Temple Baptist Church and became an ordained pastor in July of 2020. He teaches many Bible studies and leads powerful prayer gatherings. He has great passion for spreading the word of God to others. Pastor Kee and his wife, Pam Hung, have four children – two sons, and twin daughters.